"In short, one of the most beneficial and enjoyable days I've spent in a car. Managing to allay our fears, given the torrential rain and rookie participants, is worthy of a mention all of its own. The day worked really well splitting time between the very, very fun practical and the hugely informative theory over a brew and time to assimilate what we'd just been doing.
What to say about Neil? Personable and professional only starts to scratch the surface. His knowledge is immense, his ability to put across complex concepts wonderful and his car handling skills aren't half bad either. I wouldn't hesitate to recommend DRIVE 7TENTHS to friends or anyone wanting to learn more about how a car actually works and what your own capabilities really are."
Jerry – Porsche Cayman
"I'm a keen driver. I love everything automotive and have owned some cracking cars, but after nearly twenty years of driving, the 'snap oversteer' reputation of the Honda S2000 I had just bought worried me a little. Up stepped Neil Furber and his friendly, adaptable driving tuition. Neil is fantastic at digging out the little glitches in your driving style that hold you back, and can adapt his lessons to cater for exactly what you want from them. Be it safety, economy, track times, or even heroic oversteer, Neil knows his stuff. He can even teach you the engineering and physics behind how your car behaves. I can't recommend the experience enough. Yes it's daunting, but honestly, it will change the way you drive forever."
Mark – Honda S2000
"Neil commenced the training with 'back to basics'. Yes it was tough, but when is anyone's driving ever appraised post passing their test? Habits are formed over time and Neil highlighted that these are not necessarily always good ones! His gentle, calm approach and straightforward, but firm guidance ensured that I worked hard in sharpening observations, spacial awareness and all round improvement of road sense.
We then moved on to develop the 'sports driving' mode and pushing the car (and me) a little harder. Neil encouraged me to stretch myself, but not beyond my comfort zone and always safely. The incorporation of a couple of demonstration drives also helped with the training and progress was quickly made!
My final session with Neil was taking my MX-5 on track at Blyton Park. What an absolutely brilliant day! Without doubt, whatever your experience, Neil comes highly recommended by me."
Judith – Mazda MX-5 Mk4
"I asked DRIVE 7TENTHS to review my driving in order to determine if any of the habits were dangerous and to see where my driving could be improved. Only when you have driven with someone who is correctly trained and skilled do you understand just how much information you are missing and how your observation and control skills could be improved. At the end of our sessions I felt much more in control of my environment both in and out of the car and driving was more fun again.
Flushed with success at my new-found road skills I signed up for a track session with Neil. He taught me how to get the best out of my car. In half a day of one-to-one tuition I learnt more about car control and my own car's capabilities than I thought possible. I also had an enormous amount of fun.
Would I recommend Neil and DRIVE 7TENTHS – Definitely Yes!"
Richard – Morgan Plus 8
"I've had 5 sessions with Neil at DRIVE 7TENTHS working on my driving style and handling the car. Neil has a wealth of knowledge and experience and explains everything brilliantly. My driving has become a lot smoother and the tools Neil teaches have made for a much safer driving experience. Multiple times since taking the lessons I have seen dangerous situations at a distance as they unfold and managed to avoid being in a situation where in the past I would have been a lot closer to the event and having to take evasive action.
My awareness of my surroundings has grown with lots of clues that can be found by the driver giving information about the road surfaces, other drivers' potential behaviour and hazards that may appear thanks to Neil explaining how things that are not directly communicating with the driver can actually be translated by the driver into useful information.
After 15 years of driving becoming simply a form of transport I now find it extremely engaging and I have found the joy of just driving around in the car once more."
Paul – BMW 135i
"I had the chance of having Neil as my instructor for my first ever trackday. He was very patient, giving me very clear instructions about what I needed to do around the track. Although he pushed me to my limits, I felt safe because I felt he knew his stuff so I trusted him. I have learnt so much in one day I now feel a lot more confident to go back on track and want to learn more! I really enjoyed the day and couldn't have done it without him."
Jenny – Lotus Elise
On-road Driver Training
Most enthusiasts spend the majority of their driving time on the public road, so this is an ideal place to start and offers great value.
DRIVE 7TENTHS offers road driving courses to improve control, safety and enjoyment. Learning a unique blend of performance driving, technical knowledge and 'Advanced' driving skills, you'll evolve your driving from a basic skill into an art.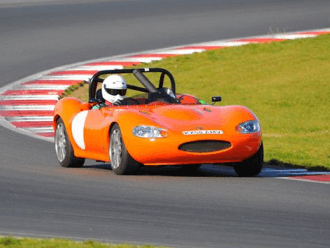 On-track Driver Training
For those wanting to really push the performance envelope of their cars, the track environment offers the ideal playground.
DRIVE 7TENTHS offers performance courses on-track and in safe, closed environments to explore vehicle limits and cornering. With an emphasis on vehicle dynamics, you'll gain a rare insight into weight transfer, tyres and cornering.
"I approached Neil to help up-skill my driving technique as a job change meant going from driving a 10 mile trip on a daily basis to approx. 1000 miles per month. My test was taken many years ago and I was very aware that if I was to be safe and as a consequence others too, I needed to be brought (maybe dragged) up to date!! I was coached by Neil for three, two-hourly sessions – he was very observant – I got away with absolutely nothing – extremely patient and gave encouragement appropriately. After each session I received written feedback and he always encouraged me to question him so I fully understood. He recommended books to help with my progress and for reference and has kindly followed through with aftersales care – occasionally asking how I'm getting on.
As a teacher, it does not come naturally to be taught – however Neil is an excellent coach and I cannot highly recommend him enough."
Denise – Mazda MX-5 Mk3.5
"I first met Neil during a driving experience. Having raced a little and been on numerous track days I wasn't overly concerned with pushing the cars to their limits on circuit, so after some fun in a low friction environment, Neil suggested we spend some time fine tuning my road driving skills.
Having always been interested in the finer points of driving it was a revelation to me! We covered steering techniques, mirror use and signalling – so the basics and things I have been doing for 25 years, but it quickly became apparent that each can be taken to a significantly higher level adding real enjoyment and pleasure to the process of driving.
Following the experience, I signed up for a series of road based lessons with Neil with the aim of improving my thought processes and ensuring I could enjoy the performance of my car whilst always maintaining appropriate driving standards and safety.
Neil was attentive to my thoughts and happy to discuss opinions and ideas with me throughout. I already felt that I was driving to a good standard – don't we all! – but in reality I had become rather stale and jaded in my approach to driving and in particular to other road users! Working with Neil has helped me rediscover the joy of driving and in particular trying to drive to the highest standard possible. I revel in the higher level of thinking that Neil has fostered and take real pleasure from all the new finer details that I am now able to put into place.
Neil has renewed my enthusiasm for what was already a lifelong passion. I would heartily recommend him to you."
James – Porsche 911
"I love driving. The odd track day when I can, but mainly road driving. I did my IAM test about 20 years ago but felt that my skills, observation and habits recently were not as honed as they could/should be. I was also starting to find that I wasn't enjoying driving as much as I used to. I think some of this is getting older and also having family rather than sports cars. I spent time with Neil who quickly identified areas to work on, in a helpful and constructive way. He takes you back to basics and quickly builds up based on your skills and experience. I really looked forward to the sessions and then putting into practice what I had learned on the commute to work the following week. Not only have my driving skills and awareness improved since doing the course, it has renewed my enjoyment of driving. I believe the majority of people would benefit from a few sessions with Neil and will gain more confidence, safer driving and better car control. I will plan to have more sessions with Neil again in future."
Kevin – BMW 330d